IAKC wishes all of you a Happy Republic Day on this auspicious occasion. Today, we celebrate the 73rd Republic day of India. We are obliged and honored to wish you all a Happy Republic Day, today.
We are having a Drawing competition in accordance with Republic Day Celebrations.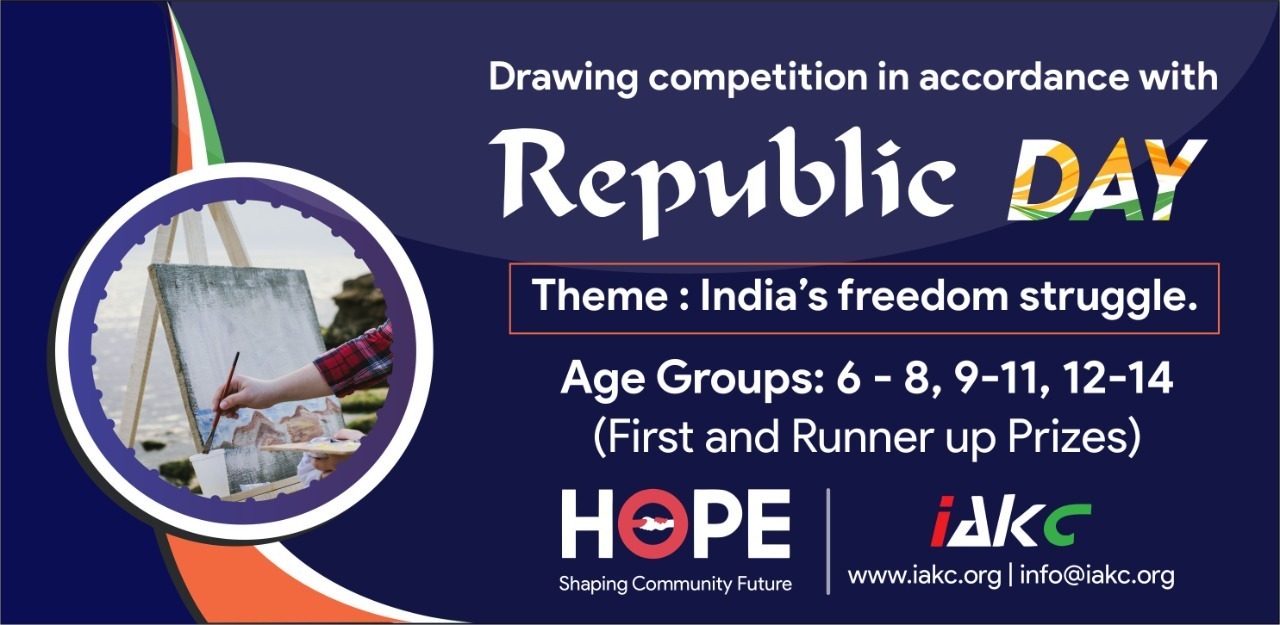 Republic Day, celebrated every year on 26th January has a special significance in the history of India. To make the event memorable the national event is celebrated every year with a lot of joy, happiness, and pride in our hearts. As we know on 26 January 1950, the Indian constitution came into effect and so from that day we the people of India constantly praise it as the Republic Day of the country. We all know that India got independence on 15 August 1947 but the nation didn't have any constitution of its own. However, after many discussions and considerations, a committee headed by Dr. BR Ambedkar submitted a draft of the Indian constitution which was adopted on 26th November 1949 and officially came into effect on 26th January 1950.
We are having a Drawing competition in accordance with Republic Day Celebrations.
Here are the rules and specifics for the Drawing competition –
Age Groups: 6 – 8, 9-11, 12-14
(First and Runner in each age group will be awarded prizes). The prizes will be announced on February 15th.
Drawing must be on paper of A3 size (297 x 420 mm) or A2 size (420 x 594 mm) or A4.
Acceptable tools of drawing include pencil, crayon, watercolor, oil paint, and acrylic.
Computer drawing, Photographs, wires, and other 3D objects are not acceptable.
The completed artwork must be on a flat piece of paper.
The drawing must be on the theme – India's Freedom Struggles.
Name and age of the participant must be clearly mentioned on the back of the painting in the English Language.
Artwork must be dropped off at one of the locations below on or before February 5th for the participants to enroll in the competition. We will not accept any drawings dropped off after February 5th.
Drop off Locations
Olathe – 15153 W. 146th Circle, Olathe, KS 66062
Overland Park – 8205 W 127th Cir, Overland Park, KS 66213