Movie Review: A Gentleman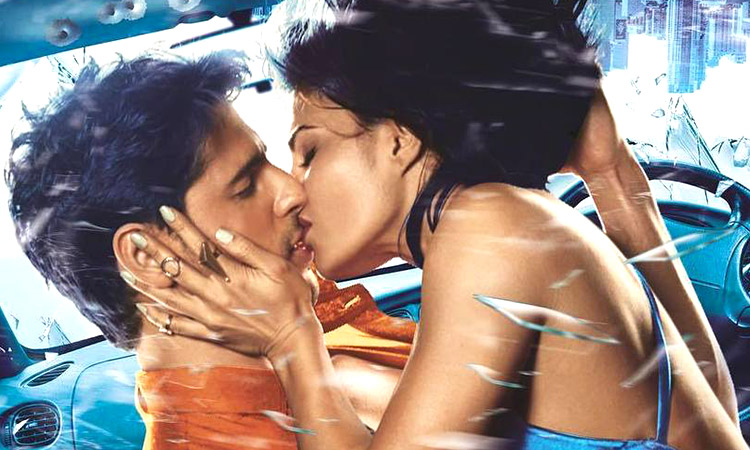 A popular formula used in our films since years is that of two distinct characters having identical faces that gives rise to confusion to the other characters in the films but loads of entertainment to the viewers. DON, HUM DONO, AAKHREE RAASTA, JUDWAA, SEETA AUR GEETA, ROWDY RATHORE and many other films tackled this idea successfully. Now A GENTLEMAN also gets added to the list. So does it manage to provide the entertainment like the aforementioned films or does it fail in entertaining the viewers, lets analyse. A GENTLEMAN is about a simple, innocent guy in Miami whose life turns upside down due to a supposed case of a mistaken identity. Gaurav (Sidharth Malhotra) is doing well in his career and his quite stable financially. He is attracted to Kavya (Jacqueline Fernandez) but she finds him too boring. On the other hand, Rishi (Sidharth Malhotra) is a sexy, risk-taker gangster on the run. He has got into the bad books of the evil Colonel Vijay Saxena (Suniel Shetty) who's trying to hunt him down. What happens next and are Rishi and Gaurav the same person or are they different is something that forms the rest of the film. A GENTLEMAN doesn't waste time in introducing the characters and their respective traits. There are two parallel tracks in the first half and it manages to keep the interest going. There is a huge surprise minutes before the intermission point that is bound to catch most of the viewers unawares. You expect the film to go on a high in the second half but that never happens. Logic takes a backseat and the film turns into a no-brainer. It also reminds one of the 90s Hollywood action films. In this process, the film looks too Western and the makers should have probably Indianized it well. Raj Nidimoru, Krishna DK and Sita Menon's story shows promise initially but later turns haphazard. Raj Nidimoru and Krishna DK's screenplay handles the complex narrative well in the first half but overall, it could have been better and more sensible. Things are too unconvincing in the film. In the Thailand heist sequence, the security officers run behind Team Rishi while the locker remains exposed in the open. Rishi exercises heavily and follows up his work out eating Ching's noodles. Sadly, the product placement is in your face. Kavya is shocked to learn about Gaurav and gets disgusted at him but suddenly in the next scene, she gets intimate with him. Even the manner in which Colonel's henchman Yakub (Darshan Kumaar) spares Rishi from death several times is strange. Such bewildering aspects take away the sheen. SumitBatheja's dialogues however are hilarious. Raj Nidimoru and Krishna DK's direction is weak. The screenplay itself is faulty and hence the execution anyways wouldn't have helped much. They have given some great entertainers in the past like 99, SHOR IN THE CITY and GO GOA GONE. They possess the technical knowledge and if they choose the right script, they can do wonders. Unfortunately, this is the second consecutive time, after HAPPY ENDING, that they have faltered with a weak script. Sidharth Malhotra however is apt for the role. He is convincing as the
'sundar'
,
'susheel'
Gaurav as well as the risky Rishi. Both avatars are well essayed and he is good even in action scenes. Jacqueline Fernandez looks sizzling and has an interesting character. But she doesn't get to do much and it's only from the middle of the second half that she gets embroiled in the madness. Suniel Shetty is wasted. He deserved more screen time and could have made for a great villain. Darshan Kumaar however has a crucial part and gives an impressive performance. RajitKapur and Supriya Pilgaonkar (Kavya's parents) are decent. Amit Mistry (Jignesh) and Hussain Dalal (Dikshit) raise loads of laughs. Sachin-Jigar's music fails to make a mark.
'Chandralekha'
is the best of the lot.
'Bandook Meri Laila
's is foot-tapping but is relegated to the background.
'Baat Ban Jaye'
and
'Laagi Na Choote'
are forgettable. '
Disco Disco
' is played during end credits. Roman Jakobi's cinematography is great and locales of Miami, Thailand and even Mumbai are well captured. Aparna Sud's production design is appealing. ManoshiNath, Rushi Sharma and Niharika Jolly's costumes are glamorous, especially the ones worn by Jacqueline Fernandez. Aarif Sheikh's editing could have been better and sharper in the second half. The action scenes are too lengthy. Cyril Raffaelli, Parvez Shaikh, George Aguilar's action is slick and entertaining. On the whole, A GENTLEMAN surprises audience with the developments in the first half but the film goes downhill in the second half completely. At the box office, it will collect the most out of all other releases but it won't last in theatres for long.
Read more http://www.bollywoodhungama.com/movie/a-gentleman/critic-review/