Movie Review: Toilet – Ek Prem Katha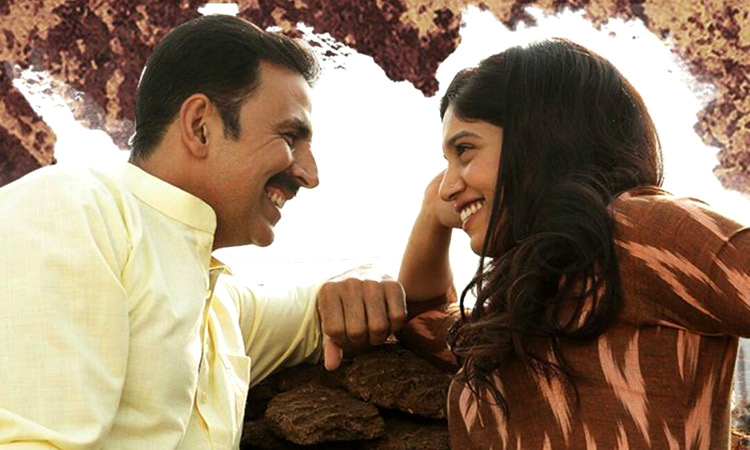 When it comes to sanitation, our country lags far behind. The shortage of toilets can be seen in each and every corner of India. It is a sad sight to see people relieving themselves in the open. For women, things are even more difficult for obvious reasons. Also, a lot of rapes and sexual assaults happen on women when they are attending the nature's call in villages and small towns. TOILET – EK PREM KATHA throws light on this aspect and also spins a love story out of it. So does this social drama manage to make the required impact or does it fail, let's analyse. TOILET – EK PREM KATHA is a love story of a man who fights the system and his family to install a toilet in his house for the sake of his wife. Keshav (Akshay Kumar) lives in Mandgaon village in North India with his father (Sudhir Pandey). He falls for Jaya (Bhumi Pednekar) who also starts loving him. Both get married. She is unaware that Keshav's house doesn't have a toilet. On the first day post marriage, she is made a part of the women's '
lota
party', comprising of all ladies from the neighbourhood who relieve themselves in the open before sunrise. Jaya is enraged and she demands that a toilet is made in the house. Keshav's father however puts the foot down. He argues that he won't allow anyone to relive themselves in the house as he claims that it's against their culture. How Keshav takes up the challenge to construct a toilet and stands up against the system forms the rest of the film. TOILET - EK PREM KATHA's first scene, depicting how the women bond while on their way to the fields, sets the mood of the film. Akshay's entry happens suddenly and this sequence serves no purpose to the rest of the film. The entire stalking bit is slightly objectionable but keeping in mind the small town element, it works. The marriage happens all of a sudden but the film takes a turn when Jaya finds out that there is no toilet in her marital home. The intermission point is terrific and takes the film to another level. The second half too has its moments. The scenes where Jaya ridicules the women for not standing up for their rights and Keshav's outburst after his toilet is destroyed are highly memorable. On the flipside, the film gets too long and should have been shorter by at least 20 minutes. Few scenes also seemed unconvincing. More unbelievable is when the '
lota
party' ladies suddenly revolt against their husbands. Garima Wahal and Siddharth Singh's story tries to balance a love story with a social problem plaguing the country. Garima and Siddharth's screenplay however moves at a slow pace. The manner in which Keshav goes to insane lengths to ensure that Jaya gets access to a toilet daily is amusing. But a crisper narrative was required. Also, the film gets preachy in the second half and becomes a pro-government film at places that could have been avoided. Nevertheless, the seven-locks sequence deserves applause. Garima and Siddharth's dialogues are sharp and witty. The urban audiences might cringe at the repeated use of words like '
sandaas
', '
shauch
' etc but then there was no choice. The film wouldn't have made an impact without these terms. Shree Narayan Singh's direction is why the film suffers to an extent. At places the film is too fast – Jaya-Keshav's marriage happens in a jiffy and catches viewers unawares. But in the second half, it drags a lot. One can't deny however that he has helmed some scenes deftly. One of the scenes where he really impressed is when the Brahmin father is compelled to take a bath in the pre-climax. Akshay Kumar is a relevation. Since the past few years, he has been essaying some well-written parts but with TOILET - EK PREM KATHA, he goes on a high. The way he reacts in the aforementioned breakdown scene is going to stun viewers. Bhumi Pednekar gives a towering performance. She appears extremely confident and convincing. Divyendu Sharma (Naru) brings in comic relief and is wonderful as Akshay Kumar's brother. Sudhir Pandey is perfect as the strict father who is imprisoned in the age-old customs that serve no purpose in today's times. Anupam Kher (Jaya's uncle) also raises laughs but his part is not a caricature. He has a crucial part to play in the film. Shubha Khote (Keshav's grandmother) is good especially in the pre-climax. Rajesh Sharma (D M Mathur), Mukesh Bhatt (journalist Rastogi), the actors playing sarpanch and the female journalist are good in their small parts. Sana Khan is wasted. Music isn't memorable.
'Hans Mat Pagli'
registers to an extent. '
Gori Tu Latth Maar'
is well-shot.
'Bakheda'
and
'Subha Ki Train'
are strictly okay. Surinder Sodhi's background score is exhilarating at places. Udai Prakash Singh's production design is straight out of life. Anshuman Mahaley's cinematography is fine but in the aerial shots, it is praiseworthy. Shree Narayan Singh's editing is average. On the whole, TOILET – EK PREM KATHA, despite the minuses, integrates a strong social message with entertainment wonderfully and also questions several age old practises in the society. At the box office, no competition, holidays in the next week as well as tax exemptions in certain states are bound to help the film resonate with the audience.
Read more http://www.bollywoodhungama.com/movie/toilet-ek-prem-katha/critic-review/